Cherry Creek Lawn Care
Josh Studer, Owner of Clean Air Lawn Care Cherry Creek, is passionate about creating and maintaining beautiful lawns. His lawn care experience is extensive as he has owned the business since 2010! He is passionate about sustainability and has all the skill to ensure your lawn is getting what it needs and maintained in a way to thrive. Josh's customers love him as he not only provides high quality lawn care services, but he is also on top of communication with customers. Check out his reviews, here! Learn a bit more about Josh below.
Why did you open Clean Air Lawn Care Cherry Creek and how long have you been an Owner?  
I wanted the freedom of doing my own thing and what better way than work outside and learn how to make lawns look awesome!
What sustainable habits do you have?
Carbon emissions and their effects is eye opening and cutting gas engines out to start cutting grass with electric is much better.  Owning a Clean Air franchise has definitely made me more aware and proactive with recycling.
What are your hobbies?
Sports – Go Nuggets!
Fishing and outdoor concerts
What inspires you, motivates you?
Successful business operators are inspiring.  My family and friends keep me going strong.
Anything else about you, your business, employees, etc that you want to share?
Our 10 year anniversary in 2020!!  Couldn't have done it without some solid teams and employees along the way.  Get ready to go Organic!!
Cherry Creek Lawn Care Services
Irrigation Consultations & Small Repairs
Soil Tests
Garden Bed Maintenance
Yard Clean Ups
Mulch Installation
Sod Installation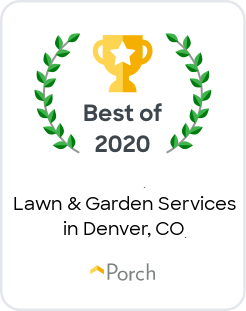 Each year, the Best of Porch award is given to the top 1% of professionals on Porch. Professionals earn Best of Porch status by maintaining outstanding community reviews, high response rates, no unresolved complaints, and a track record of delivering great value-for-money to customers with on-time service. website.